About conference
Allied Academic Publication is an amalgamation of several esteemed academic and scientific association known for promoting scientific temperament. Established in the year 1997, Andrew John Publishing Group is a specialized Medical publisher that operates in collaboration with the association and societies. This publishing house has been built on the basis of esteemed academic and research institutions including the College of Audiologists and Speech Language Pathologists of Ontario (CASLPO), Sonography Canada, Canadian Society of Internal Medicine (CSIM), The Canadian Hard of Hearing Association (CHHA), Sonography Canada, Canadian Association of Pathologists (CAP-ACP) AND The Canadian Association of Neurophysiologic Monitoring (CANM).
Neurocongress2018 is an elite stage to unite overall eminent researchers in the field of Neuroscience Brain researchers, public health professionals, scientists, academic scientists, industry researchers, scholars to exchange about state of the art research and technologies. The aim of this conference is to stimulate new ideas in the various fields of neurology and neurological research. From brain imaging to neural engineering, this will help in the analysis and select the prosthetic to help the patients. Other reasons are, gathering of world-class researchers and budding talent from across the globe, showcase your research and get world recognition, avail chances to interact with world-renowned scientists, perfectly designed schedule: Workshop, Expo areas, Brain sessions and many more, platform to network with fellow primary care clinicians, educational workshops on diagnosis and treatment of Neurological diseases.
Welcome Massage
With great pleasure, we invite you to participate in the Conference on Neurology and Brain Disorders which is going to be held on June 21-22, 2018 at Osaka, Japan. The topic of the conference covers a wide range of critically important sessions related to Neuroscience and advancement.
Neurological disorders are illnesses of the spine, brain and the nerves that connect them. There is adequate confirmation that pinpoints neurological disorders as one of the biggest threat to public health. There are more than 600 diseases of the nervous system, such as Alzheimer's disease, Brain tumors, Epilepsy, Parkinson's disease, and Stroke as well as less familiar ones such as front temporal dementia. In the present-day scenario, a wide population of mankind is plagued by mental and neurological illnesses, with almost 165 million people or 38 percent of the population suffering each year from a brain disorder. With just about a third of cases accepting the treatment or medication needed. Mental illnesses cause a huge economic and social burden. It found the cost burden of these and neurological disorders amounted to about 386 billion euros a year. Every year an expected 6.8 million people die because of neurological disorders.
Keeping in mind the end goal to quicken the examination in the field of Neuroscience Allied Academic Publication composes diverse meeting arrangement around the world. The aim of the conference conducted by us is to spread the awareness regarding the subject and to excite the researcher's mind, which will definitely influence the current research. Session on Neurology
Neurology might be characterized as the finding and treatment of scatters of the sensory system, which incorporates the cerebrum and spinal rope. The market examination of neurology addresses the biggest and undiscovered market in prescription area. This assessed showcase investigation is relying upon likelihood of endorsement and offers of items in late stage change, statistic patterns and advancing of item. Rising and creating markets at the end of the day helps incomes. CNS therapeutics includes approximately 15% of total pharmaceutical arrangements, about $30 billion around the globe.
Session/Tracks
Track 1: Alzheimer's disease
Alzheimer's ailment is a neurological cerebrum issue. Alzheimer's sickness us the most widely recognized type of dementia, a gathering of scatters the disables mental working. Alzheimer's is dynamic and irreversible. Memory loss is one of the most punctual indications, alongside a progressive decay of other scholarly and thinking capacities, called intellectual capacities, and changes in identity or conduct.
· Alzheimer's disease
· Treatment of Alzheimer's disease
· Stroke related dementia
· Computational and mathematical modeling of dementia
· White matter and dementia
· Sleep and dementia
· Young onset dementia
· Multi-infarct dementia
· Mixed dementia
· Post Stroke dementia
· Parkinson dementia

Track 2: Dementia Care
Dementia is a decline in mental ability server enough to interfere with day to day life. The most commonly occurring systems of dementia are decrease in ability to think and remember, emotional problems, problems with language, decrease in motivation. World Health Organization list of top ten leading causes of deaths all over the world, Alzheimer and other dementias has 7th ranking. Dementia had overtaken as leading cause of death in England and wales over heart diseases. Alzheimer disease is 6th leading cause of death in the USA and it kills more than breast and prostate cancer combined. To solve problems of globally various dementia conferences were arranged to find cure for dementia society universally.
Track 3: Neurological infections
Neurological infections are those infections in which the nervous system gets infected. Neurological infection may include infections caused due to viruses such as Creutzfeldt–Jakob disease which is a fatal neurodegenerative disease. Chronic meningitis that describes the inflammation in the meninges which are the membranes of brain and the spinal cord. Chronic meningitis is the one where inflammation persists for more than 4 weeks.
Track 4: Neuroimmunology
Neuroimmunology is a field merging neuroscience, the examination of the nervous system, and immunology, the examination of the immune system. Neuroimmunologists hope to better appreciate the participations of these two complex systems in the midst of change, homeostasis, and response to injuries. A whole deal target of this rapidly making research range is to furthermore develop our understanding of the pathology of certain neurological diseases, some of which have no unmistakable etiology. In doing all things considered, Neuroimmunology adds to headway of new pharmacological drugs for a couple of neurological conditions. Many sorts of joint efforts incorporate both the nervous and immune systems including the physiological working of the two systems in prosperity and disease, breakdown of either and also both systems that prompts issue, and the physical, mixture, and environmental stressors that impact the two systems routinely.
Parkinson's disease is a chronic, degenerative neurological disorder that affects one in hundred people above age sixty. While the average age at onset is sixty, people have been diagnosed at age 18. There is no objective test for disease, so the rate of misdiagnosis can be relatively more, especially when the diagnosis is made by a non-specialist. Estimates of the number of people living with the disease therefore vary, but recent research indicates that at least one million people in the United States, and more than five million around world, have Parkinson's disease.

Track 6: Movement disorders
Movement disorders

are neurological conditions that affect the speed, fluency, quality, and ease of movement. Abnormal fluency or speed of movement (called dyskinesia) may involve excessive or involuntary movement (hyperkinesia) or slowed or absent voluntary movement (hypokinesia).
Movement disorders include the following conditions:
· Ataxia (lack of coordination, often producing jerky movements
· Dystonia (causes involuntary movement and prolonged muscle contraction
· Hunrington's disease (also called chronic progressive chorea)
· Multiple system atrophies (e.g. Shy-Dragger syndrome)
· Myoclonus (rapid, brief, irregular movement)
· Parkinson's disease

Track 7: Genetics and Epigenetics in Neurodegenerative Disorders
Neurodegenerative disorders are among the real challenges and among the most therapeutic issues that ought to be with stranded by the world, especially in light of extending populace age. They cause the degeneration and passing of nerve cells as they shape hopeless conditions for treatment. As indicated by a synergistic investigation of the WHO, the World Bank and the Harvard School of Public Health by 2020 neurodegenerative infections, dementia will be the eighth reason for sickness among created regions. It is additionally assessed that they will possess the world's second driving reason for death by 2050, surpassing growth. Amid embryogenesis and for separation of neural cells Epigenetic instruments are fundamental required. Accordingly, exact comprehension of epigenetic components, including DNA methylation and histone adjustment, is vital to explain the pathogenic pathways in neurodevelopmental issue
Most regular neurodegenerative sicknesses
· Parkinson's malady
· Alzheimer malady
· Huntington malady
Track 8: Neuro-Degenerative disorders
Neurons are the building pieces of the sensory system which incorporates the cerebrum and spinal string. Neurons typically don't imitate or supplant themselves, so when they get to be distinctly harmed or bite the dust they can't be supplanted by the body. Many neuro degenerative ailments, including amyotrophic parallel sclerosis, Alzheimer's, Parkinson's and Huntington's happen as an aftereffect of neurodegenerative procedures. Dementias are in charge of the best weight of sickness with Alzheimer's speaking to around 60-70% of cases. The major cause of neural disorder is the progressive degeneration in structure and function of neuron. Sometimes it also causes the death of the neurons. Neural degeneration causes many neurological diseases such as Parkinson's, ALS, Huntington's etc. Many researches are going on but till date these diseases are incurable and progressively results in degeneration or death of nerve cells. This deterioration causes the loss of cognitive behavior and other clinical features.
Track 9:Central nervous system
The central nervous system contains spinal cord and brain. The central role in the control of most bodily functions is done by the brain, including movements, awareness, thoughts, sensations, memory and speech. Few reflex movements can happen via spinal cord pathways without any involvement of brain structures. The spinal cord is linked to a unit of the brain called the brainstem and runs through the spinal canal. Cranial nerves exit the brainstem. Nerve roots exit the spinal cord to both sides of the body. The spinal cord carries signals back and forth between the brain and the peripheral nerves. Cerebrospinal fluid surrounds the brain and the spinal cord. It also circulates within the cavities of the central nervous system. The cerebrospinal fluid circulates between the pia matter and the arachnoid, they are the 2 meningeal layers. The outer, thicker layer serves the role of a protective shield and is called the dura matter. The basic unit of the central nervous system is the neuron. Billions of neurons permit the dissimilar parts of the body to connect with each other via spinal cord and brain. A fatty material called myelin coats nerve cells to insulate them and to allow nerves to communicate quickly. CNS disorders can affect either the brain or the spinal cord which results in psychiatric disorders or neurological disorders. The causes of CNS diseases are neurology, trauma, autoimmune disorders, infections, structural defects, degeneration and tumours. So here we focus on mood disorders, neurodegenerative diseases, schizophrenia and autism. Meningitis is generally an uncommon infection that affects the sensitive membranes termed as meninges, that cover the spinal cord and brain. Encephalitis is the inflammation of the brain which is caused by infection or allergic reactions.
Neurology and genetics are considered together in a division of science called Neuro-genetics. It concerns the advancement and function of the nervous system as well as the role played by genes in its improvement. An extensive variety of disorders and diseases are determined by Neuro-genetics and these conditions can have substantial impacts on an individual's quality of life, behavior and personality. An extensive variety of disorders and diseases are determined by Neuro-genetics. These conditions can have substantial impacts on an individual's quality of life, personality and behavior.
Track 11: Neuro-Oncology and Brain Tumour
The Central Nervous System is denounced to various malevolent disorders. Central Nervous System covers its mechanism, Metastatic pestilence, Ramification, Cancers, Neurons and Sensory Receptors, Neurological Disorders, Neurodegenerative disease and Imaging agents to CNS neurofibroma. Cancer spreads to the Nervous System by direct invasion or compression from continuous tissues relates to the proximity of the Nervous System to other structures.
Global Central Nervous System Drugs market to grow at a CAGR of 3.2% over the period 2011-2015. The global central nervous system (CNS) therapeutics peddle has been forecast to reach US$133 billion by the year 2018, which increases in disease ubiquity rates due to increase in population, introduction of new drugs, and increased outgo on healthcare.
· Central Nervous System
· Neurological Disorders
· Metastatic Pestilence
· CNS Tumor
Brain Tumor occurs when abnormal cells form within the brain. The symptoms of Brain stem tumors vary greatly and can include Ataxia, Cranial Nerve Palsy, headaches, problems with speech and swallowing, hearing loss, weakness, Hemiparesis, vision abnormalities, ptosis, and behavioral changes. Another possible symptom is vomiting. Any brain tumor is inherently serious and life-threatening because of its invasive and infiltrative character in the limited space of the Intracranial Cavity.
· Benign brain tumors
· Malignant primary brain tumors
· Imaging studies
· Tumor Biomarkers
Track 12: Brain injury and Behavioral issues
Head injury survivors may experience a range of neuro­psychological problems following a traumatic brain injury. Depending on the part of the brain affected and the severity of the injury, the result on any one individual can vary greatly. Personality changes, memory and judgement deficits, lack of impulse control, and poor concentration are all common. Behavioral changes can be stressful for families and caregivers who must learn to adapt their communication techniques, established relationships, and expectations of what the impaired person can or cannot do.
In some cases, extended cognitive and behavioral rehabilitation in a residential or outpatient setting will be necessary to regain certain skills. A neuropsychologist also may be helpful in assessing cognitive deficits. However, over the long term both the survivor and any involved family members will need to explore what combination of strategies work best to improve the functional and behavioral skills of the impaired individual.
Track 13: Neurological Disorders and Stroke

Neurological disorders are disorders of central and peripheral nervous system which comprises of brain, spine and nervous system. There are more than 600 neurological diseases such as epilepsy, Alzheimer, Parkinson, brain tumors, cerebrovascular diseases including stroke, and dementia which are common. Millions of people are affected worldwide due to neurological disorders

Brain disorders
Memory disorders
Neurodegenerative disorders
Tumors
Therapeutic advancement in Neurological disorders.
Stroke occurs when an artery supplying blood to the brain either suddenly becomes blocked or begins to bleed which may result in part of the brain dying or leading to a sudden impairment that can affect a range of activities such as speaking, movement, thinking and communication.
Ischemic Stroke
Memory disorders
Hemorrhagic Stroke
Transient Ischemic Stroke
Track 14: Pediatric Neuropharmacology

Pediatric neuropharmacology

deals with the neurological disorders in children such as seizures, delayed speech, weakness, or headaches. ADHD is also a

neurodevelopmental

disorder, which occurs at the age of six to twelve. The

symptoms

are excessive activity,

inattention

, disruptive or impulsive behavior.


Overall, about 40% to 50% of the patients treated in a typical

pediatric

neurology practice have epilepsy, while 20% have learning difficulties or developmental problems and 20% are suffering from headaches.
Cerebrovascular research is unique in that it involves a variety of specialties such as neurology, internal medicine, surgery, radiology, epidemiology, cardiology, hematology, psychology and rehabilitation. Cerebrovascular Diseases is an international forum which meets the growing need for sophisticated, up-to-date scientific information on clinical data, diagnostic testing, and therapeutic issues, dealing with all aspects of stroke and cerebrovascular diseases. It contains original contributions, reviews of selected topics and clinical investigative studies, recent meeting reports and work-in-progress as well as discussions on controversial issues. All aspects related to clinical advances are considered, while purely experimental work appears if directly relevant to clinical issues.
Track 16: Computational Neurology
Computational Neurology is the learning of brain and its function through information processing structures that make up the nervous system. Computational Neurology comprises the use of computer simulations and theoretical models to study the function of the brain and nervous system.Computational neuroscience, different from psychological connectionism, and also from learning concepts of disciplines such as neural networks, machine learning and computational learning theory. It highlights descriptions of functional and biologically realistic neurons and their dynamics and physiology. These models catch the basic highlights of the natural framework at numerous spatial-fleeting scales, from layer streams, proteins, and compound coupling to organize motions, columnar and topographic design, and learning and memory. These computational models are used to frame hypotheses that can be directly tested by biological or psychological experiments.
Market Analysts
The nature and complexity of

neurological
disorders, with so many complicated medical cases and procedure has enabled this field to hold a key position across a host of

medical

centers worldwide. The rapid advances in this discipline is giving rise to a great market, with hefty economic benefits, for neurologists, clinicians and manufacturers of medical devices, associated with this branch or its subsidiaries.

According to a recent report published by
Transparency
Market Research, a leading intelligence firm based in US, the

global

market

of neurology to supposed to reach 13.6 billion dollars in 2019 from 5.0 billion dollars in 2012, with a compound annual growth rate of 15.4%. The major contributor towards this higher CGAR, is the medical device market associated with neurosurgery.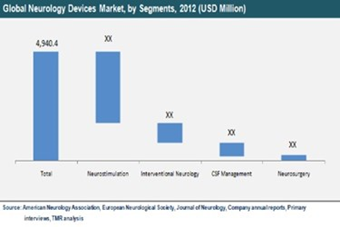 The
neurology
devices market has been segmented into interventional neurology, CSF management devices, neurostimulation devices, and
neurosurgery
. On the basis of geography, the global neurology devices market has been divided into North America, Europe, Asia Pacific, Latin America, and Rest of the World. Out of these segments, neurostimulation devices market segment was valued as the dominating segment and is expected to grow at a CAGR of 15% from 2013 to 2019. The interventional
neurology
devices market segment will also grow at a fast pace due to rising incidence of aneurysms and stroke.

The key factors contributing to the growth of the global neurology devices market are increasing incidences of neurological disorders such
Alzheimer's
disease, ischemic stroke, multiple sclerosis,
brain
cancer, and other such traumas to the brain. Additionally, as a
geriatric
population is growing, the global neurology devices market is also witnessing a huge encouragement. As most patients are opting for use of
neurology
devices over use of drugs due to no side effects and better effectiveness. However, poor reimbursement policies, tough taxation policies in U.S. and Europe are few factors that are holding back this market
Target Audience
:
Neurosurgeons, rehabilitation physicians, psychiatrists, Neurologists, Brain Researchers, Brain injury survivors,Clinical practitioners, physiotherapists, Clinical researchers, Nurses and all those providing care and treatment to patients with brain Disorders
Target Audience
Academia 60%
Industry 30%
Others 10%
Top universities around the Globe
Dalhousie University

Leiden University- Neither land

Temple University USA

University Oklahoma

Boston Coll USA

Florida International University

University California – Davis

University Sheffield

University Manchester

University of Nottingham
Cardiff University

University of Toronto – Canada
University College London

Imperial College London

King's College London

Queen Marry University of London

Royal Holloway University of London

Birkbeck College University of London City

University of London

Brunel University

Universities in Toronto

University of Alberta

University of British Columbia

University de saint-Boniface

University of New Brunswick
Top Hospitals around the Globe
Johns Hopkins Hospital

World Brain Center Hospital

Duke University Hospital

Edward Hospital

Munson Medical Center